Peruvian Shop » Sweaters » Isabel Sweater
click photo to view larger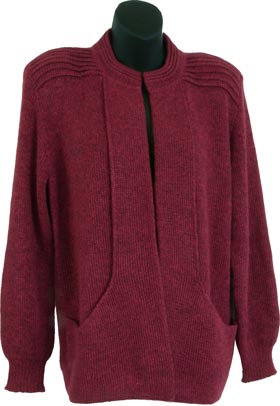 Isabel Sweater
- Baby Alpaca Wool
Soft, 100% Baby Alpaca Wool in a ribbed weave with pockets and ribbed cuffs.
Imported from Peru.
$135.00 sizes S, M, L, XL
$150.00 sizes XXL, XXXL
(+ shipping & sales tax, if applicable)
How to Order
Please call to check availability of sizes and colors. Credit card orders are accepted by phone.
Available Colors
Below are some of the colors that may be available for this item. Other colors may also be available. Please call us if there is a specific color you are looking for.
Actual colors may vary slightly.
(click colors to view larger)
Deep Ocean
(out of stock)
Forest Fern
Terra Verde
Moss Hill
(out of stock)
Sangria
Vermillion
(out of stock)
Black
Care Instructions
Gently hand wash.