Peruvian Shop » Scarves
Alpaca Wool Scarves
Our beautiful Alpaca wool scarves are crafted by families living in small Peruvian villages and imported directly to our shop. The Alpaca wool is harvested from Alpacas on Peruvian farms, then processed and woven into scarves by nearby skilled weavers. As direct importers, there are no "middle people" to inflate prices, which allows us to offer substantially lower prices for Alpaca items than found in most shops in the USA. Your purchase will directly benefit the livelihood of our Peruvian crafters.

Our shop will be closing for the season
on Dec. 28th and will reopen on April 1st.
Last day to ship orders is December 20th!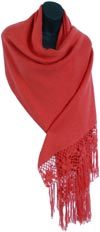 Alpaca Wool
$85.00
More colors available.