Monica's Chocolates Receives Best New Food Product Award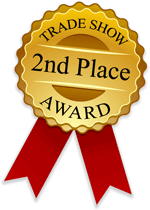 Monica's Chocolates exhibited at the 24th Annual New England Products Trade Show (NEPTS) held in Portland, Maine March 15-17, 2008. NEPTS is a business-to-business wholesale trade show featuring a juried selection of specialty food, giftware, and home furnishings from Maine, New Hampshire, Vermont, Massachusetts, Rhode Island, and Connecticut.
We are happy to announce that out of the forty companies in the Specialty Foods category, Monica's Chocolates was selected as the second place winner of the Best New Food Product Award. This award is presented for "a quality product representing the best of New England craftsmanship". We are honored to receive this award and would like to thank those who voted for our product.
In addition to winning the 2nd place award, we had the pleasure of meeting other exhibitors, as well as many wholesale buyers who were excited about our chocolates. To everyone attending the show that stopped by our booth to sample our chocolates, or just to meet us, we would like to say "thank you", and we hope to see you at the show again next year.